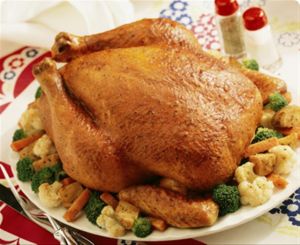 Dessert
Serves: 4
Cooking time: 3hours
"This tender roasted chicken with potatoes and sage dressing is even more delicious than its aroma while baking. My children enjoy this meal as much as I did when I was young.
Ingredients
1 cup chopped celery
1 medium onion, chopped
1/2 cup butter or margarine
2 tablespoons poultry seasoning
1/2 teaspoon rubbed sage
8 cups cubed day-old white bread
1/2 cup chicken broth
1 166grm Food Factory Fresh Irish chicken  
1/4 teaspoon salt
1 pinch pepper
6 medium baking potatoes, peeled and quartered
1 teaspoon chopped fresh parsley
Method
In a skillet, saute celery and onion in butter until tender, about 5 minutes. Add the poultry seasoning and sage. Place the bread cubes in a large bowl. Stir in celery mixture and chicken broth; mix lightly. Just before baking, stuff the chicken. Place on a rack in a roasting pan; tie the drumsticks together. Sprinkle salt and pepper over chicken. Bake, uncovered, at 350 degrees F (185c) for 1-1/2 hours, basting every 30 minutes. Place the potatoes around chicken; cover and bake 1-1/2 hours longer or until potatoes are tender and a meat thermometer reads 180 degrees F-185 degrees F. Sprinkle with parsley. Reserve pan drippings and thicken for gravy if desired.
Mouth Watering!!!!