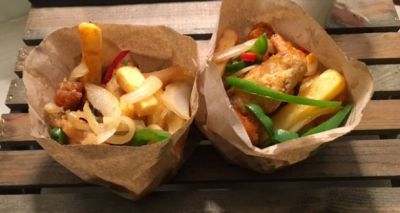 Main Course
Serves: 1-2
Cooking time: 3-4
Create your very own "Spice Bag" at home! Follow the steps below! Please not you will need a deep fryer & wok for best results!
Ingredients
Diggers Shredded Chicken
Scallan's Spice Bag Mix
Frozen Chips
Veg of your choise (chillies for spice)
Method
Take out all ingredients.
Cut veg to size that you want
Place Chicken in deep fryer for approx 2 - 3 minutes. When cooked place in bowl and put to the side
Place chips in deep fryer. When cooked place in bowl.
Place Veg in the Wok
Place chicken & chips in the Wok
Sprinkle "Spice Bag" Mix ontop and give a good mix. (as much spice bag mix as you'd like)
Plate / Bag everying in the Wok
Enjoy!
Shredded Chicken >> https://www.scallans.com/buy-groceries.php?id_prd=617&id_cat=20
Frozen Chips >> https://www.scallans.com/buy-groceries.php?id_prd=376&id_cat=27
Spice Bag Mix >> https://www.scallans.com/buy-groceries.php?id_prd=666&id_cat=28