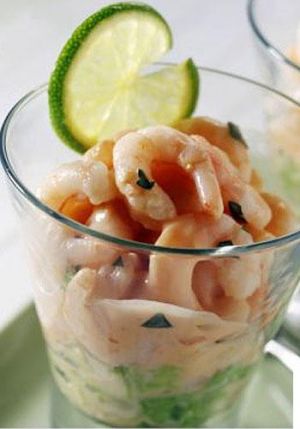 Starter
Serves: 2
Cooking time: 5 Mins
Prawn Cocktail Recipe with Prawns, Lettuce & Marie Rose Sauce.
Ingredients
A handful of a crispy Lettuce (Little Gem)

For the Marie Rose Sauce...
9 oz (250g) Small Cooked & Peeled Prawns*
4 fluid oz (100ml) Mayonnaise
1 tbsp Tomato Ketchup
1 tsp Lemon Juice
A dash of Tabasco sauce
A dash of Paprika
Method
TRY THIS: PRAWNS IN VOL U VENTS

Cook the Vol au Vent cases as per the instructions on the package. When cooked remove the tops and set aside. Fry the Mushrooms in the Butter until soft. Stir in the Chicken pieces and White Sauce. Season with Salt & Pepper. Bring to the boil and then allow to cool a little. Spoon the mixture into each Vol au Vent case and replace the lids. Serve warm or cold. Serves 4.
Prawns in a Cream Sauce Vol U Vent 
·         1 tablespoon olive oil  
·         2 tablespoons butter  
·         1/2 carrot, diced  
·         1/2 onion, diced  
·         1/2 celery rib, diced  
·         3 tablespoons flour  
·         1 cup full cream milk  
·         1/4 cup white wine (optional)  
·         12 pieces fresh prawns, peeled, deveined and chopped  
·         1 tablespoon chopped parsley  
1.   Heat the olive oil and butter together in a heavy sauce pan.  
2.   Add the carrots, onion and celery and cook over a medium heat until the onions are translucent and the carrots and celery are soft.  
3.   Add the flour and cook for around 3 minutes.  
4.   If using, add the white wine and then the milk around a quarter cup at a time, make sure to keep on stirring so that the milk does not catch at the bottom of the pan.  
5.   Finally, add the chopped prawns and cook for around 5 minutes until the prawns turn pink and are cooked.  
6.   Finish with some chopped parsley